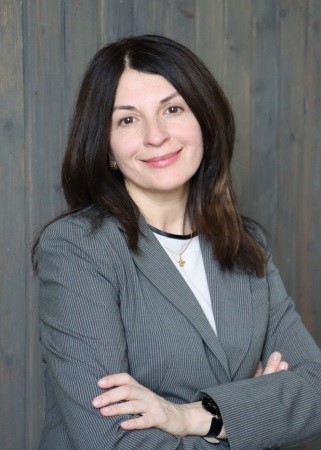 Since 2015 she was appointed to the National Team of Higher Education Reform Experts in Ukraine. Field of the expertise: internationalization of higher education.
In 2015 she founded the Ukrainian Association of Professors and Researchers of European Integration (APREI) aimed at uniting efforts of the scholars within European Studies towards contributing to the European integration processes in Ukraine.
She holds Ph.D. in Public administration. Her research interests include the problematic of cross-cultural studies, European multicultural education policies, internationalization of higher education. Her research fellowships include DAAD scholarship in Freie University, Germany (2018), Lund University, Sweden (2016-2017), University of Salerno, Italy (2019, 2017, 2014), Stuttgart University, Germany (2011).
Since 2001 she has taken a position of the International Relations Office Director at Donetsk State University of Management being responsible for fostering the internationalization policy within the university, which includes setting the institutional international agenda, identifying and developing and setting budget for international activities. Along with administrative work, her teaching activities cover: "Intercultural Communication Skills" and "Cross-Cultural Management". She specializes in personal, and professional intercultural capacity building, multicultural team development, effective cross-cultural negotiations. She was invited as a guest lecturer and trainer at Business School in Nowy Sacz (Poland), Ostrava University (Czech Republic), University of Salerno (Italy).
Through 2015-2019 she took a position of the senior researcher at the department of internationalization of higher education at the Institute of Higher Education, National Academy of Education Sciences, Ukraine.